Piramal realty Launches Vyan at Piramal Vaikunth in Balkum Thane West - Pay just 1% on Booking - 20%-40%-40% payment plan
Piramal realty is glad to announce the project Vyan in Vaikunth project at Balkum Thane West. EXCLUSIVE 2 BED RESIDENCES WITH UNINTERRUPTED VIEW OF OPEN SPACES WITH AMAZING PAYMENT PLANS.
ON BOOKING 1%
PAYMENT PLAN ( 20% - 40% - 40% )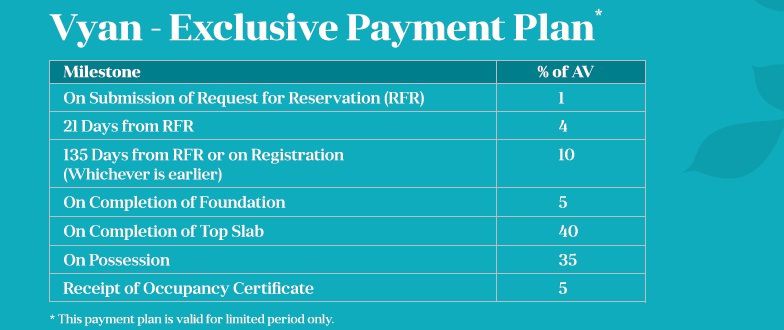 Piramal Vaikunth houses an exquisite collection of apartments and townhomes in the heart of Thane. Surrounded by lush hills, lakes, and nature reserves, it offers residents unique avenues to reconnect with the environment while enjoying the comforts of city life. Blending luxury living with nature's tranquility away from the urban grind, half of Piramal Vaikunth's 32-acre footprint is dedicated to preserving indigenous plant species. Nature trails, organic gardens and parks with dense foliage will be present across its expanse.
Piramal Vyan is located on the most prime location of Balkum which is just few minutes drive from Ghodbunder road and also close to the railway station. The vaikuth project is already built with world class modern amenities and homes are much specious which people loves to live in it.
PIRAMAL VAIKUNTH VYAN APARTMENTS
2BHK - 530 SQ FT to 570 SQ FT
2BHK BOX PRICE - 93 Lacs Onwards
Book by paying just 1% of Agreement Value
20% within 135 Days, 40% Once building is ready
And rest 40% on Possession
No Bank Loan Required
Show your interest - Call 9765642136 - 8793633023
Powered by 123ContactForm | Report abuse
price rates, location floor plans, master plan, brochure, project
Comments