The Springs Emaar Dubai with Phase 15 - 14 - 13 - 12 - 9 - 8 - 7 - 6 - 5 - 4 - 3 - 2 - 1
The Springs Dubai is wonderful community of Townhouse & Villas. It has 2BR, 3BR and 4BR luxury Villas designed in a way that it gets amazing views of Lake. Located within the heart of Dubai, 9 km inland from Interchange 5 on Sheikh Zayed Road near Nakheel Metro Station 2, The Springs provides a comfortable living to its residents. If you want to bypass Dubai traffic on Sheikh Zayed Road, take alternate route to The Springs via Hassa Road which leads to Mafraq Road and brings you to The Springs. The Springs is only 15 minutes drive to Emirates Road which connects you to Abu Dhabi, Al Ain, Sharjah and only 30 minutes away from Dubai Airport. The Dubai Bypass Road is minutes behind The The Springs is built as a perfect home for families and couples. The Springs is a community of townhouses that come with amazing views of waterways, lush landscaping and beautiful gardens. The Springs is located close to other beautiful townhouse and villa communities like The Lakes, Emirates Hills and The Meadows which also offer great community facilities that everyone in the locality can enjoy. The community includes various amenities including banks, supermarkets, cafes, restaurants and more.
It is finest place for living as you exeperience here luxury life along with all 5 star amenities available in the township. The Springs is a well planned community lifestyle project by the Middle East region?s largest and most successful developer. The Springs offers its citizens swimming pools, nurseries, parks, gymnasiums, schools, community centers, shopping arcades and mosques. The Springs provides for almost all its citizens needs while offering 24 hour security, wide expanses of play areas and maintenance all year round.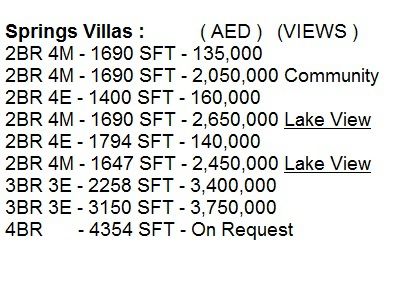 Comments